Last week I attended the annual OAME (Ontario Association of Mathematics Educators) in Toronto. It was so great to finally meet some of the people I've been tweeting with.
I was pumped to attend Mary Bourassa's double session on great classroom activities. One of the activities that I've seen on her blog, but not used in my own classroom was Speedy Squares. So when I had an opportunity to try it, I jumped on it!
There is something special about doing the lessons yourself while learning about a lesson at a conference.
It's @MrOrr_geek doing "speedy squares" at @MaryBourassa 's session at #OAME2015 then modelling on @Desmos pic.twitter.com/Xva3lfrgxJ

— David Petro (@davidpetro314) May 7, 2015
Read about the lesson:
You can read about the lesson on her blog here part 1 and here part 2.
[aio_button align="center" animation="none" color="blue" size="small" icon="download-alt" text="Download Now" relationship="dofollow" url="https://www.dropbox.com/s/4alwa51yhra2wgy/Speedy%20Squares.docx?dl=0″]
The big question: We want to determine how long it will take to build a 26 x 26 square out of link cubes.
More Curious
While actively building the squares I had a great idea to make the introduction to the activity a little more curious! So when I got back to my classroom I broke out the cubes and created this….

Maybe before the time trials of building the squares, we can dive into generating questions and wonderings first.
What is he making?
How many squares will he use?
How long will it take?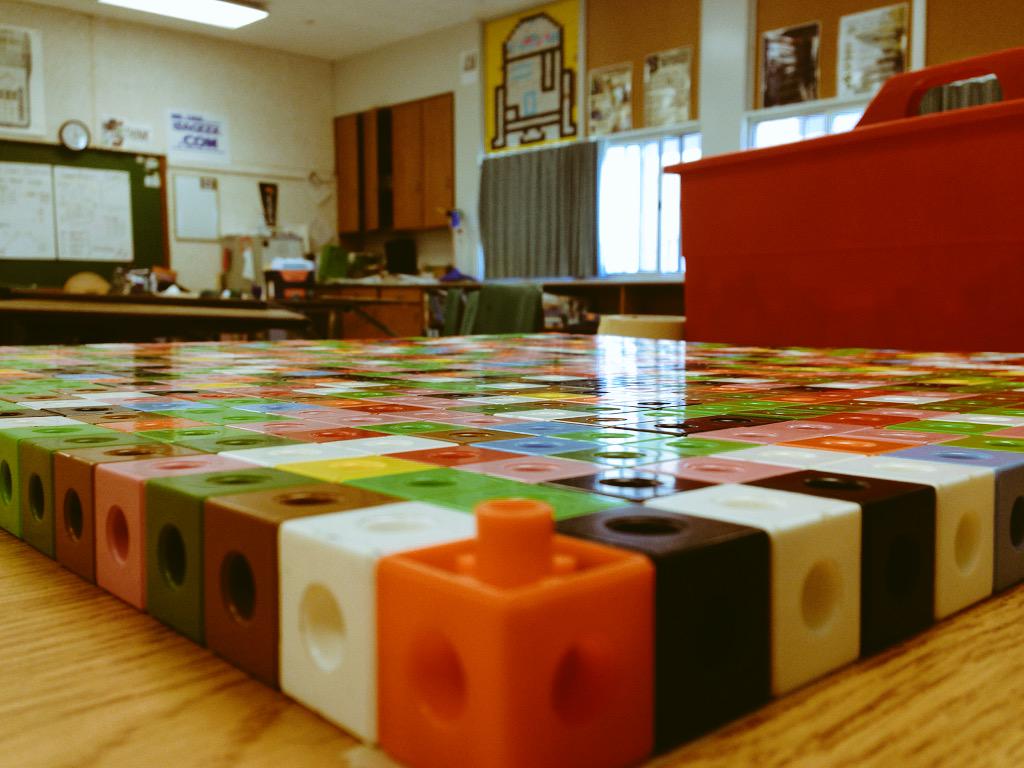 Now that we have generated questions….we can then move onto Mary's awesome two day lesson.
Once students have got an answer to how long they would take to build the 26 x 26 square, you could show the video of me building it!
I'm really interested to see if elementary teachers can use this in their classes and what they come up with!